Partenaire Trendy Foods
Market Invaders is constantly looking for efficient and innovative channels to guarantee a competitive advantage to its customers. new channels efficient and innovativeto ensure a competitive advantage for its customers.
It is in this context that we have integrated the market place Trendy Foods, leader in the distribution of food products on the local market in Belgium and Luxembourg with a global turnover in 2021 of 1.45 billion euros.
Trendy Foods offers a range of 17,000 products: confectionery, fresh and frozen products, snacks, drinks, alcohol, wine, tobacco, telephony, of all national and international brands.
Its presence on the Belgian territory and in Luxembourg allows it to deliver to more than 10,000 customers in all types of channels (HORECA / SUPER STORES / NIGHT SHOPS / LOCAL ORGANIZATIONS / LIBRARIES / SERVICE STATIONS / BOULANGERIES / RETAIL / CASH AND CARRY / VENDING / GROSSISTES / LEISURE). Its experience is made available to its clients through specific approaches.
The different departments (retail, sales support, sales force, out of home and community) will accompany its customers in order to optimize and dynamize the points of sale. The key to its success is the diversification of its clientele and the specialization of the customer approach in relation to products and concepts.
With 17,000 products in stock, Trendy Foods does not cover 100% of its customers' needs. We estimate that we cover between 10 and 80% of the needs of our customers depending on their profile. Trendy Foods wanted to be a "One-Stop-Shop" in order to facilitate the life of its customers who will be able to find everything they need in one place and have a centralized management of orders, invoices, etc.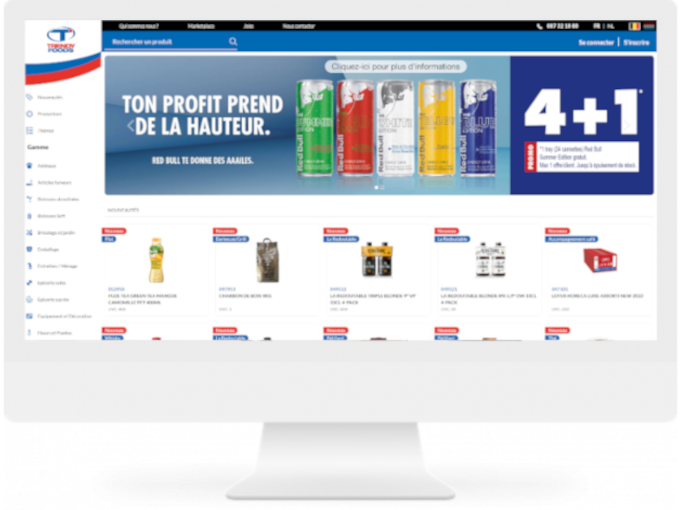 Pays couverts par Trendy Foods :
We want to leverage our profiling technology to offer your products to relevant customers as they browse our website.
Who can sell on Trendy Foods?
Trendy Foods is a B to B Marketplace in Belgium that wants to be generalist and competitive.
Any seller able to assume a delivery in Belgium with products in French and/or Dutch with an EAN code and to ensure a service in these same languages via the courier system.
Main categories available:
Pets

Smoking articles

Alcoholic beverages

Soft drinks

DIY and garden

Packaging

Maintenance / Cleaning

Savoury grocery

Sweet grocery

Equipment and Decoration

Flowers and Plants

Hygiene and Health

Games and toys

Books

Fashion and accessories

Multimedia

Stationery, supplies

Fresh Products

Frozen products

Sports and leisure

Car and Transport
Ask for more information to sell your products on Trendy Foods! 
We offer a communication pack worth 9 000 €, including a banner on the front page of the site + a newsletter and an insert in the Folder printed and sent to all our customers.
To expand our offers and propose the most successful services to our customers, Market Invaders collaborates with nearly a hundred partners (marketplaces, software publishers, independent consulting firms, web agencies, etc.)
Become the next Market Invaders partner!
Want to join the Market Invaders partner ecosystem?