Partenaire Greenweez

In just a few years, Market Invaders has established itself as a major player in the marketplace, relentlessly pursuing new, efficient and innovative channels to guarantee its customers a competitive edge.
C'est dans ce cadre que nous avons créé un partenariat avec Greenweez, le n°1 spécialiste en vente de produits Bio & Ecologiques en ligne en Europe.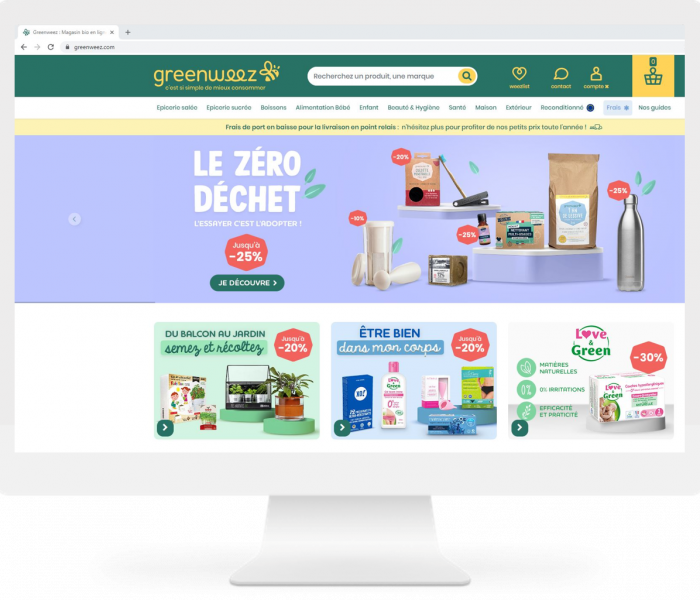 Since 2008, the marketplace has been supporting sellers in responsible consumption by offering a wide range of organic and ecological products divided into 11 universes: savory groceries, sweet groceries, beverages, baby, children, health, home, beauty & hygiene, outdoor, motorcycle, used and fresh. 
Quality: the selection of products is very rigorous according to the origin, Greenweez favors a French & European manufacture when possible as well as recyclable, compostable and / or biodegradable packaging.
Les valeurs : une charte éthique avec les fournisseurs est signée concernant le tri des déchets, la réduction des consommations d'énergie, l'utilisation d'énergies vertes, environnement… Pour proposer aux consommateurs des alternatives durables, équitables et responsables aux produits du quotidien.
Speed and reliability: an order will be delivered between 3 and 5 days after its validation by the seller. Sellers are subject to continuous control, they must respect the commitments of the marketplace.
To sell on Greenweez you just need to have a company that offers the following product categories:
Ask for more information to sell your products on Greenweeez ! 
To expand our offers and propose the most successful services to our customers, Market Invaders collaborates with nearly a hundred partners (marketplaces, software publishers, independent consulting firms, web agencies, etc.)
Become the next Market Invaders partner!
Want to join the Market Invaders partner ecosystem?