Partenaire Fnac

Market Invaders is constantly looking for efficient and innovative channels to guarantee a competitive advantage to its customers.
In this context, we created a partnership with Fnac.
Le groupe Fnac Darty, fort d'un chiffre d'affaires de 7,5 milliards d'euros, est la seconde destination e-commerce en France. Ils réalisent 20% de ce chiffre d'affaires grâce aux sites internet. Les entreprises ont été créées durant les années 50 et sont devenues des références incontournables sur le marché français.
Un français sur deux est un client du groupe Fnac Darty grâce notamment à un maillage de plus de 500 magasins en France. Avec plus de 20 millions de visiteurs unique par mois, vendre sur les plateformes Fnac Darty permet d'accroitre la notoriété des vendeurs Marketplace sur le marché français.

Fnac est principalement connue pour son positionnement d'expert et de pionnier, grâce au « labo Fnac ». Fnac propose les dernières nouveautés de grandes marques et elle est également choisie par les marques qui souhaitent se lancer sur le marché français. Fnac se positionnement comme leader sur le marché de l'hightech (smartphone, TV, écouteurs…etc.)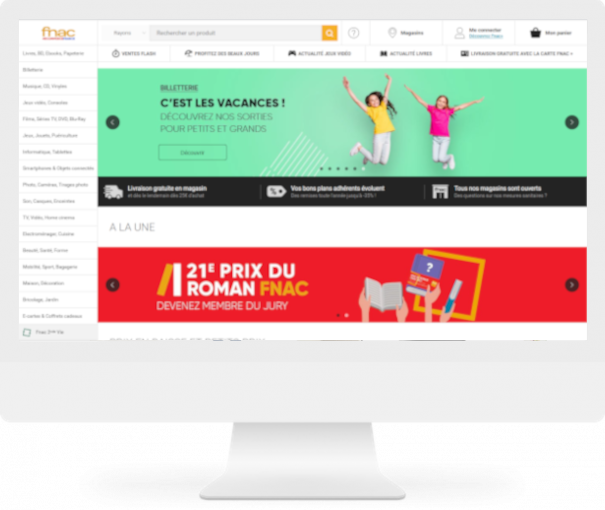 Some conditions to validate before going further
To sell on Fnac you just need to have a company that offers the following product categories:
Generalist
Furnishing
Pets
DIY
Relaxation
Household appliances
High-Tech
Decoration
Garden
Games
Toys
Books
CDS
DVD
Fashion
Second hand
Sport
Clothing
Office
Ask for more information to sell your products on Fnac! 
To expand our offers and propose the most successful services to our customers, Market Invaders collaborates with nearly a hundred partners (marketplaces, software publishers, independent consulting firms, web agencies, etc.)
Become the next Market Invaders partner!
Want to join the Market Invaders partner ecosystem?