Partenaire Amazon Business

We are delighted to announce our strategic partnership with the Amazon Business team. 
Together, we have pooled our efforts to offer you access to all the innovations of the Amazon Business platform, including the essential VAT calculation tool.

Explore this page to discover the many benefits of this program, as well as the steps you need to take to integrate our Market Invaders solution and optimize your sales on Marketplaces.
Amazon Business is now available in France. This development opens up a world of opportunities for business customers of all sizes-from SMEs to multinationals, including institutional entities such as universities and hospitals. The programme also includes the Fulfillment by Amazon (FBA) service, recognised for its excellence.
As a privileged partner and pioneer in the adoption of Amazon Business, we are perfectly positioned to support you in conquering the B2B market on Amazon.fr as well as on Amazon.de, Amazon.co.uk, Amazon.it and Amazon.es.
Our solution is fully adapted to all functionalities, including commercial pricing options and volume discounts.
If you're a new or experienced salesperson and would like to find out more about this exclusive program, contact us by filling in the form below.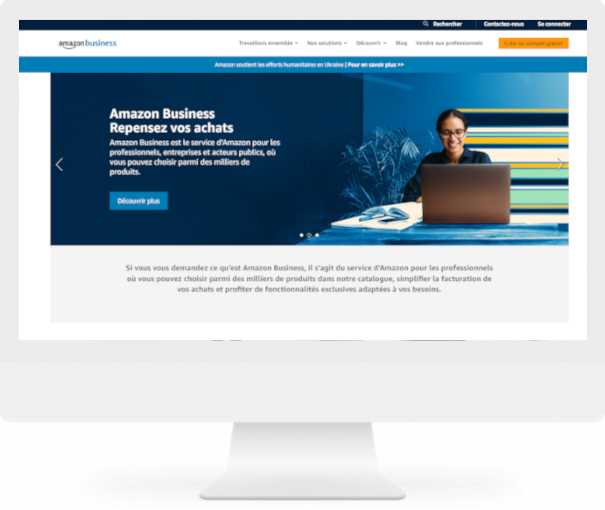 Why choose Amazon Business?
Sign up for Amazon's VAT calculation service.
Your offers will show VAT-exclusive prices to business customers on Amazon.de and Amazon.co.uk. This helps you increase your chances to win the buy box. The service, once activated, will also provide VAT invoices on your behalf for all your Amazon customers. Click here to FAQ. Please note that after completing the enrollment process and Amazon will get back to you within 4 days to verify your information. Activation of the service is expected to happen in the coming weeks.
How to benefit from Amazon Business features using your solution
Using our solution, you can already get started with Amazon Business and/or the Amazon VAT Calculation Service. Please note that you first need to join the Amazon Business program and subscribe to VCS.
Ask for more information to sell your products on Amazon Business ! 
To expand our offers and propose the most successful services to our customers, Market Invaders collaborates with nearly a hundred partners (marketplaces, software publishers, independent consulting firms, web agencies, etc.)
Become the next Market Invaders partner!
Want to join the Market Invaders partner ecosystem?